Eye makeup has a special power to glorify your beauty. A perfect eyeshadow technique can enhance your beauty in a way you couldn't imagine.
It's a bit tricky for a beginner to apply perfect eyeshadow, but you'll be pro in no time by following our makeup guide for almond-shaped eyes.
Every fashioner out there wants to know, how to apply eyeshadow to almond eyes. So, they can rock the parties and special events.
In this article, you will get to know, how to create the most trending eyeshadow looks for almond eyes such as smokey eye look, smudged eyeshadow look, glittery smokey eyes, and more.
Read on to get inspired by our experts' tips to apply eyeshadow to almond eyes.
How to Apply Eyeshadow to Almond Eyes
You are struggling with your eyeshadow technique, right? Here's check our complete eyeshadow guide that works in any situation. It's a simple and quick guide to apply eyeshadow for almond eyes. Don't worry if you're a beginner, you will master these techniques with a little bit of practice.
So, let's dive deep into it to find some amazing tips.
You can use Vaseline same as a concealer. It helps your eyeshadow look more radiant.
Vaseline also makes your shimmer more lightening. You just need to apply appropriate Vaseline to make your eyes look glossy.
If you did something wrong with your eyeshadow, simply take a cotton bud and soak it in jelly-based remover to define your line perfectly.
Always try to use matching lipstick with your eyeshadow to make it more prominent. Also, nude and bold colors look more attractive.
Simply, use white eyeliner across your waterline to make your eyeshadow look catchier and more remarkable.
Also, white eyeliner will help your dark tone look balance and make your eyes look bigger and brighter.
So, you want to create more eyeshadow looks for festivals and parties to amaze your loved ones, don't you? With our amazing eyeshadow looks for almond-shaped eyes, you're gonna rock your next party and stun the world with a beautiful look.
Popular: 14 Best Makeup Tips for Almond Eyes | Step-by-Step Guide
Best Eyeshadow Looks for Almond-Shaped Eyes
Our best eyeshadow looks will make your day. Now you don't need to go anywhere, just follow our expert tips and magnify your natural beauty.
1) Cool & Fun Looks
I know most of the gals want to create cool and fun looks to get noticed and appraised by the others. So yeah, for an amazing look just use mascara on your lower lids instead of eyelashes. Use brown shade for eyeshadow instead of glittery or bold colors to make your eyes look sharp.
Also remember, don't build layers of mascara, just apply dark brown or beige color for eyeshadow. Use darker shades into your crease to make your eyes look more striking.
In the end, drag your shape upward and outwards to give your eyes a bigger and wider look.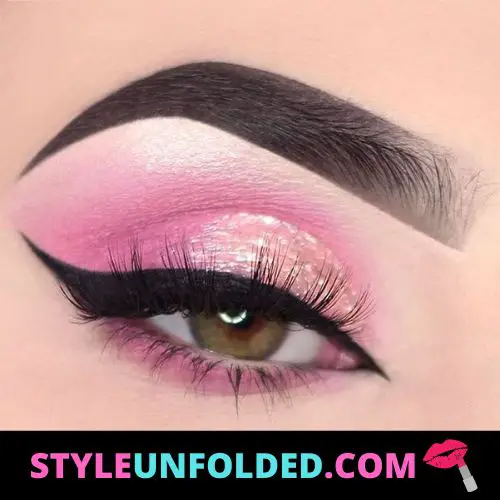 Trending: Step-by-Step Eyeliner Guide for Almond Eyes
2) Smudged Eyeshadow Look
It's a bit tricky to create a perfect smudged eyeshadow look. Because anything wrong can make your eyes look weird and unpleasant. So, by keeping this in our mind, we have come up with such easy and simple eyeshadow tips to make your almond eyes look amazing. So, let's start.
Use shimmery or metallic eyeshadow above your eyelids and use eyeliner to define your look. Always prefer to use black or dark shades with mascara to create an intense and bold look.
There is always space for your innovation, you can innovate your look by blending two different shades of eyeshadow. It will help create an alluring smudged winged eye look for almond-shaped eyes.
If your lashes are not dense enough so you should try fake lashes and properly highlight your brow bone. Believe me, you'll be amazed by the result. This look will give you the confidence to rock any party or event.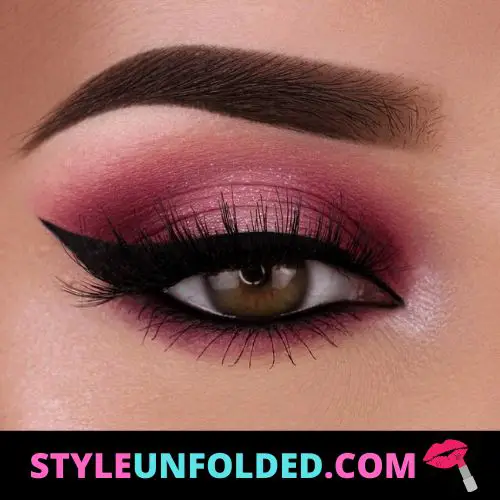 Related: Amazing Guide on How to Apply Eyeshadow for Hooded Eyes
3) Smokey Winged Look for Almond Eyes
Fashioners! Always try to create a winged look with eyeliner. But do you know a winged look can be created by using perfect eyeshadow techniques? So, let's head towards this amazing technique.
Use a darker shade of eyeliner to draw the edges. It will help you define your look more precisely. The best shades for this amazing look are darker and glittery. Because these shades can be used with any skin tone.
Apply eyeshadow on the outer corner of your eyes to create a perfect wing. You can also use this look for a daytime event by cutting down your glittery shades. Just use sunset shades and black eyeliner for a perfect smokey winged look.
Check: Top 10 Famous Celebrities with Hooded Eyes
4) Casual Eyeshadow Look
It's an amazing look for casual events and glamorous evenings as well. You just need to play with the colors that suit your skin tone and the theme of the event. You can create a double-winged look with a little improvisation in a natural look.
Just follow our tips and techniques to become a pro.
Just create thick strokes above the lashes and under the lower eyelids by using dark shades. For ease, you can use spoons to draw wings on your almond-shaped eyes.
I suggest, use pink and metallic colors when you are going for a double-winged look. If you're going for an evening or night event then you can use yellow eyeliner to give a fresh touch to your eyes. I prefer black shade if you're going for a formal event. It gives you a classy and elegant look.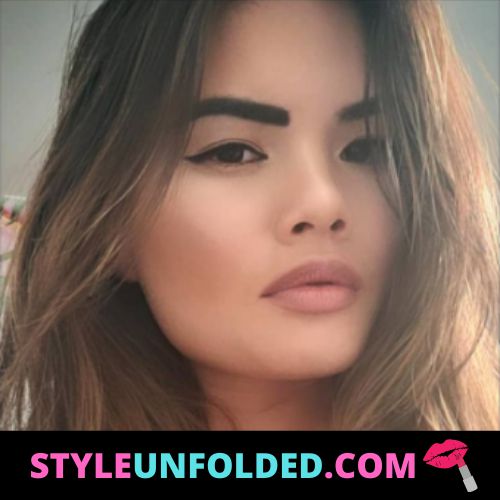 Related: A Complete Makeup Guide for Hooded Eyes
5) Rainbow Look for Almond Eyes
The rainbow look is one of the most trendy and bold looks. You need to be flashier and braver to carry this look. You can use any color combination of your choice to create a rainbow look. It's the best makeup look for a special event.
Just apply one color and go into the next color straight away. Do it elegantly and precisely. It's your choice that you want to apply color vertically or horizontally on your lids. Use a good quality clean brush and blend each color nicely.
It may take time longer than you think. So, be patient and apply any shade of your choice to the bottom lid and then complete the look with a darker shade.
Believe me, everyone gonna loves this rainbow look. So, fearfully try this look to smash the next to get together with friends or family.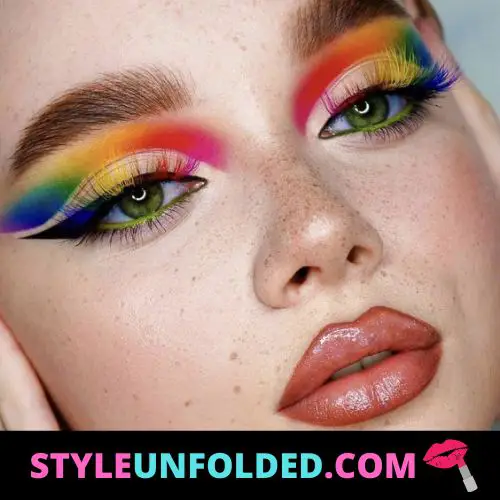 For You: Amazing Guide to Apply Winged Eyeliner on Hooded Eyes
6) Brown Eyeshadow Look
Looking for the best midnight or sunset makeup look for almond-shaped eyes? Makeup artist Pat McGrath recommends Brown eyeshadow look for evening and night events.
It's the easiest and simpler eye look, anyone can create this look perfectly even on the first attempt. you can use FRose, Juicy Fruit, Home Slice, and Big Gulp shades for a perfect brown eyeshadow look.
Just apply a lighter shade on your upper and bottom lid. Once you are done with the lighter shade then apply a bit darker shade from the inner corner and move towards the outer corner of your eyes.
After that, apply black eyeliner on your upper lid and create a perfect wing at the outer corner of your eyelid. Remember, don't use eyeliner on your lower lid. Keep it naked. Now, complete the look by applying mascara to your lash.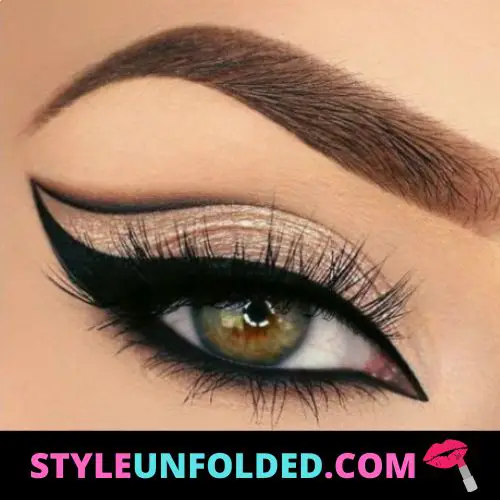 Must Check: 10 Quick Hacks: How to Apply Eyeliner for Monolid Eyes
Conclusion
So, now you can create the most amazing eyeshadow looks for almond-shaped eyes. But always remember you can create any makeup look with a little practice. So, don't get depressed if you messed up on the first attempt.
Also, it's easy to apply eyeshadow to almond eyes. The main thing is to choose the best shades to enhance your beauty and make your eyes alluring. Please mention in the comments, if we're missing anything. Also, share this helpful eyeshadow guide with your friends.