Hey, fashioners! First of all, you should celebrate if you're blessed with hooded eyes. Hooded eyes are very attractive and beautiful. You can make hooded eyes look bigger and alluring by applying perfect eyeliner.
If you're a beginner in makeup, then we have eye-opener eyeliner tips and tricks for you suggested by makeup artists. So. You'll be able to create a winged eyeliner look and more.
So, don't be discouraged. You'll be a pro in no time by following our guide on, how to apply eyeliner to hooded eyes.
Go ahead and give yourself a treat by checking the makeup artist's eyeliner tutorial.
10 Best Eyeliner Tips for Hooded Eyes
As we all know a perfect makeup look can't complete without eyeliner. But when it comes to applying eyeliner for hooded eyes, it's a bit tricky as compared to monolids or almond eyes.
The main reason is that you can't see the eyelid. But you still can rock, no one can stop you from looking adorable with hooded eyes. You just need to follow our expert tips.
So, let's explore it to get the most out of it.
1) Find Suitable Eyeliner
It's one of the main steps to find the best eyeliner that suits you the most. Because once you have the perfect eyeliner that works best for you, then you can speed up your makeup process.
While picking your best eyeliner, always make a plan that how you are gonna use it. Also, which eyeliner look you want to achieve.
Note: If you're gonna apply it to your lash line, then pencil eyeliner is the best option for you.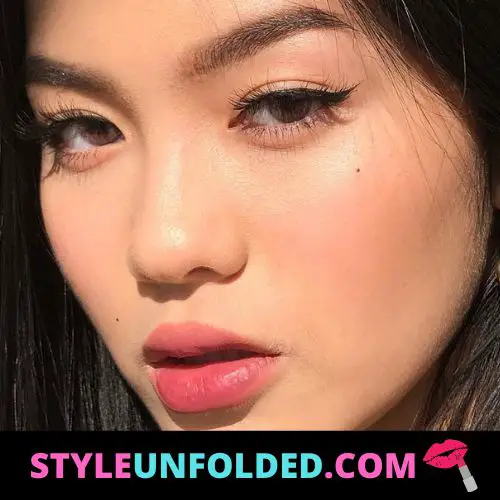 2) Tightlining
Now it's the time to make your eyes catchy by tightlining your eyeliner. It's the go-to makeup skill of every fashioner. Also, for hooded eyes, tightlining is an essential technique.
So, just gently press your pencil eyeliner in between the base of your upper eyelash. Start moving from the outer corner towards the inner area.
It might feel scary but believe me it's not hard. You can do it quite easily. The final result will be amazing. Because your upper lash is lined noticeably. It will enhance the beauty of your eyes.
Related: Amazing Guide on How to Apply Eyeshadow for Hooded Eyes
3) Outer Eye Corner
When playing with eyeliner, you need to focus on the outer corner of your eyes. You can make your eyes look bigger and noticeable using eyeliner or dark eyeshadow.
Always remember, bigger eyes look more pretty and alluring.
Also, dark or shimmery eyeshadow help with the hoodedness of eyes. It will make the eyeliner effects all over your eye, even though you just applied it on a corner.
4) Adhesive Eyeliner Stencil
Yes! adhesive eyeliner stencil can make your life easy. Especially if you have hooded eyes. Once you placed it over your eyes, then it will push the upper eyelid away. It will make it easier to create eyeliner without any hassle.
So yeah! It's the best trick to apply perfect eyeliner to hooded eyes. You can apply eyeliner on both eyes at the same time without any tragedy.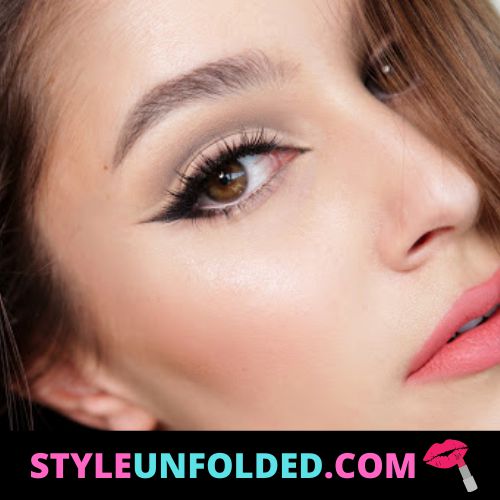 Related: Top 10 Famous Celebrities with Hooded Eyes
5) Line Size Matters
As we all know, there is not any visible crease with hooded eyes. So, it's a bit tricky to line your upper eyelid perfectly. But makeup artist Allie Renee suggested the best way to do this efficiently.
According to Allie Renee, the best way to apply eyeliner is to start from the corner. As we mentioned earlier, move from the outer corner towards the inner about ½ pr 1/3 of your eyelid.
Note: It's the best technique when you want to create a winged eyeliner look. You can create a wing without having to create a line all over your eye.
6) Use Gel Eyeliner
Want perfect winged eyeliner look with hooded eyes? it's like daydreaming. But we have a solution. I know many people suggest liquid eyeliner. But remember it's difficult to control liquid eyeliner for a beginner. You may end up with a mess.
So yeah, try to use gel eyeliner to create a winged eyeliner look. It will take some time to get used to it. But once you master the technique, then it will be bread and butter for you.
Gel eyeliner is a bit easy to control. It can help you create the perfect wing. Also, gel eyeliner lasts the same as liquid eyeliner. So, don't hesitate to use gel eyeliner.
Trending: 10 Quick Hacks: How to Apply Eyeliner for Monolid Eyes
7) Create Uplifted Wing
When creating a wing, it takes a bit more time to align the triangle that was created with the rest of the eyelid. But with hooded eyes, many gals think it's impossible to create a wing.
We have a tip to create a wing for every girl out there. Instead of making a small flick, just make an uplifted wing that can be seen when your eyes are open.
It will create the most mesmerizing effect. Also, it will not make your eyes look droopy or tired. You'll rock the moment with uplifted wings like there's no tomorrow.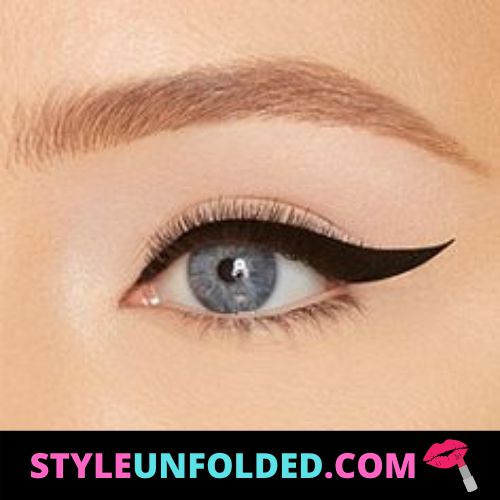 Don't Miss: How to Get Rid of Hooded Eyes: 18 LifeSaver Tips
8) Avoid Lower Lid
Avoid lower lid for a better reason. Always remember that a bigger and wider look and an open eye enhance your personality. When you focus on your lower lid, it will make your eyes look smaller.
You can do lining at bottom of your eyelid. But it will gonna make your eyes look droopy.
I recommend not focusing on your lower lid. It's better not to spend much time on your lower eyelid.
9) Use Eyelid Tape
Just like Asian beauty enthusiasts, you can use eyelid tape to open your eyes a bit more. It takes less time and helps effectively in creating the desired eye look.
You can create a fake crease with tape, it will make your eyelids more visible. So, you can easily do your makeup.
But remember, I would not suggest eyelid tape for long-term use. It might cause bad effects.
Check: What are Hooded Eyes? Are you Blessed with Hooded Eyes?
10) Experiment
As a beginner, when you want to learn something new, you should try different things. So, you will get to know which thing is better or which is not.
It's the best way to master the new techniques. Also, you can choose what suits you more.
How to Apply Winged Eyeliner for Hooded Eyes
Every girl wants to create a winged eyeliner look. But not everyone gets the perfect result. So, we came up with the ultimate quick guide on winged eyeliner for hooded eyes.
You'll become a pro by following our makeup tips.
Go ahead and check out the best-winged eyeliner tips by makeup artist Katie Jane Hughes.
1) Sketch Your Desired Look
Katie Jane Hughes, recommends starting by sketching your shape slowly by using a pencil.
First of all, take a pencil and hold it straight in the line of your nose and the corner of your eye. After that angle it towards the brow.
Simply, start from the tail of your eyebrow and move towards the corner of your eye. Then move towards the corner of your nose. It's the right direction in which your eyeliner should move.
Note: Make sure your eyebrows and eyes are completely relaxed while sketching your shape.
Popular: Monolids: 17 Amazing Makeup Tips By Experts
2) Clean Up the Sketch
Once you have a clear-cut idea of the shape that you're gonna create, then create more precise and better edges with a concealer. Also, you can use makeup remover with a small brush.
It's the best way to get your desired eye makeup look.
3) Use Liquid Eyeliner
Now is the right time to apply liquid eyeliner on your precise shape sketched by pencil. Because liquid eyeliner has a long-lasting ability.
So yeah, take a black eyeshadow and setting spray. Spray a small amount of setting spray on your eyeshadow. After that mix it well and paste it over the shape that you have sketched with a pencil.
remember, don't forget to fill the whole area carefully.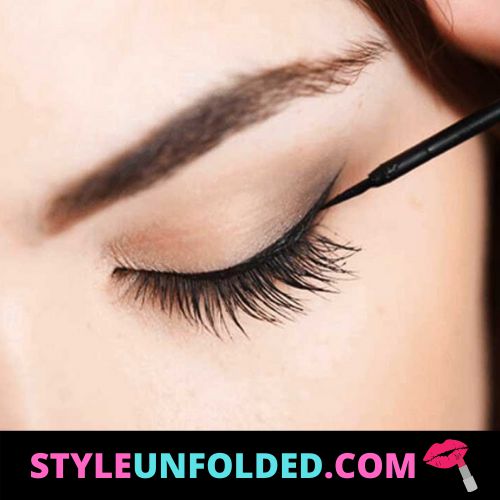 4) Extend the Eyeliner
Once you are comfortable with your wing shape, connect it to your lash line. Extend it to your lash line until you've reached the inner corner of your eye.
Always create small dashes and then connect them, rather than create a whole line at once. If you have made any mistake then don't need to worry. Just clean it with a makeup remover or concealer.
So, I hope now you can create a perfect winged eyeliner look for your hooded eyes.
Conclusion
Hopefully, our complete eyeliner guide for hooded eyes added some value to your life. You can master these techniques with more practice. By following our tips, you can rock your next party with a stunning look.
Please let us know, do you like this guide? Share your feeling in the comments. Also, share this guide with your friends and loved ones.