As a true fashioner, you'll agree that it's difficult when it comes to applying eyeshadow for hooded eyes. But keep in mind that it's not impossible by following our step-by-step guide.
In the beauty community, many people conquer the technique to apply eyeshadow to hooded eyes. You too can conquer eyeshadow techniques, but how?
In this article, we'll share amazing eyeshadow tips and tricks suggested by makeup artists. You can get benefits from them.
So, give yourself a treat by reading this article. Go ahead and feel blessed.
10 Expert Tips to Apply Eyeshadow to Hooded Eyes
As we all know it's a bit tricky to apply eyeshadow to hooded eyes. But stay calm and creative. It's just an eye shape just like almond eye shape or monolids.
You can perfectly apply eyeshadow by following our eye makeup tips. So, let's dive deep into it and check out proven eyeshadow tips, which we have lined up for you.
1) Use Primer
As makeup artist Jaleesa Jaikaran recommends, always start with a gripping eyeshadow primer. It's a bit tricky to apply eyeshadow when you are blessed with hooded eyes.
The main issue is, eyeshadow smudges or transfers more due to deep crease or you can say no crease. But primer is the solution to your problem.
You can fix your eyeshadow by using primer on your hooded eyes. Use creaseless primer along with some powder to make it stickier.
2) Avoid Overextended Brows
The only thing to remember when applying eyeshadow is, to keep your eyebrows gentle. When you're filling your eyebrows, try to keep the tail up to the head of your brows.
Don't overextend your brows. It will make your eyes look droopy and tired.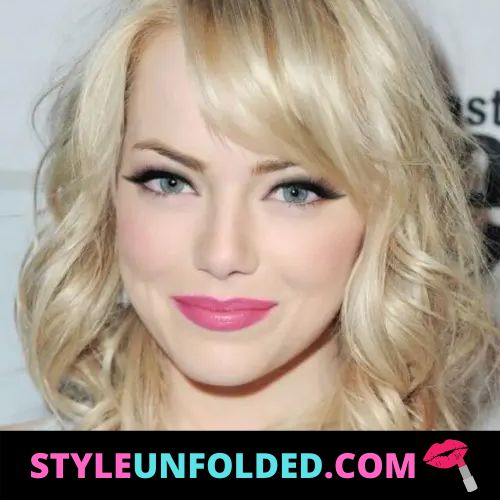 Check: Top 10 Famous Celebrities with Hooded Eyes
3) Thin Lined Upper Lid
As we all know, hooded eyes have small eyelid space. So, it's a bit tricky to achieve a cat-eye look with hooded eyes.
Always remember to use liquid eyeliner. If you are a beginner then you should go for a pencil eyeliner.
Keep your eyeliner thin and as close to the lash line as possible. It will enhance the sharpness of your eye look.
4) Winged Eyeliner Look
So, the fashioner wants to make winged eyeliner look, right? for a winged eyeliner look, you need to make the tail of your wing short. Also, flick it upwards to give an uplifted look to the eyes.
Makeup artists recommend eyeliner pens with a felt-tip. Because it's easy to control.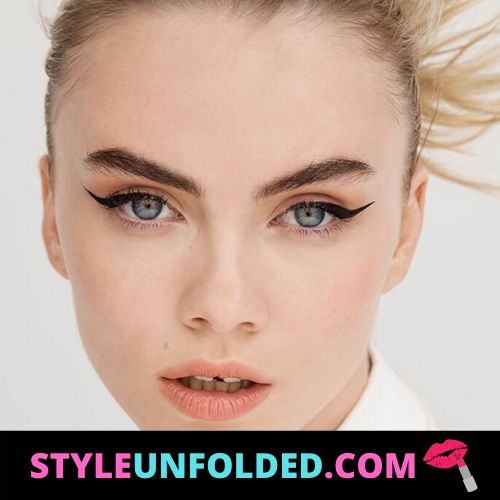 Trending: How to Get Rid of Hooded Eyes: 18 LifeSaver Tips
5) Avoid Extra Dark Shades
Always avoid extra dark shades for an eyeshadow. Because darker shades may make your eyes look sunken and we don't want it at all.
Use a good-quality makeup brush to apply shadow pigment to the upper outer corner of your eyelid. After that blend it into half of the eyelid.
6) Use Double-Sided Eyelid Tape
You can use eyelid tape without any hesitation. Because it's made of medical graded adhesive material. So, yeah! You can use this tape to create a temporary crease on your upper eyelid.
Eyelid tape makes it easy for everyone to create a fake crease. No matter you're experienced or beginner. It can help you in any way.
Eyelid tape is very common in the Asian beauty community for many past years. Nowadays, it's getting popular outside Japan and Korea.
Related: What are Hooded Eyes? Are you Blessed with Hooded Eyes?
7) Create Fake Crease
Fake crease enhances the beauty of hooded eyes. Always apply transition shades a bit above your crease to a fake crease.
It will make your eyes look brilliant and more attractive than before. Also, make sure to push back the hooded area to make more space for the crease.
8) Highlight Your Brow Bone
Always keep your highlight underneath your brows. Because when you bring your highlight lower than it will make your eyes look droopy.
So, yeah! Keep your highlight on your brow bone. It will make your eyes look bigger and brighter. Also, it makes the puffiness of your eyes neglectable. Also, make your eyes catchier and alluring.
Check: 12 Frequently Asked Questions About Hooded Eyes
9) Use Shimmer Shades
Every fashioner knows, the shimmer is not just to look pretty, it has a greater purpose. So, the shimmer will reflect light, which makes your hooded eyes look deeper and more beautiful.
Make sure to bring it above your natural crease. Also, bring it to the outer corner of your eyelid.
10) Use Good Quality Brush
Always use high-quality makeup brushes. It's not an easy task to get the best makeup brushes for your makeup kit.
High-quality brushes make it easy for you to apply eyeshadow without any difficulty. Also, if you are new to makeup, it'll be a little tough at the start. But believe me, you are gonna rock with a bit of practice.
Check: 10 Quick Hacks: How to Apply Eyeliner for Monolid Eyes
Smokey Eyeshadow Tips for Hooded Eyes
Smokey eyeshadow look is getting popular rapidly in beauty communities all over the world. People are interested to know, how to apply smokey eyeshadow for hooded eyes, more than ever before.
So, we have a quick guide for all of you. Believe me, it's very easy and anyone can master it.
1) Prime Your Eyelids
Primer your eyelids at first, it will help your makeup to stick properly. Also, you can use concealer to do it better way.
Use light pink shades from your palette and illuminate the eyes by applying them to your upper eyelids. Make sure to apply underneath your brows.
Note: Always keep in mind when applying eyeshadow, use light colors towards the inner corner and darker shade towards the outer corners.
It will lift your eyes and make them look bigger. You don't need to worry about inner eyelids, because they probably not gonna visible due to hooded eyes.
Check: Monolids: 17 Amazing Makeup Tips By Experts
2) Create Smokey Effect
After you have applied primer successfully, now is the time to create smokey effects. Use a good quality makeup brush and apply dark gray eyeshadow. Always, start from the upper outer eyelid to the center of your eyelids.
Now, carefully blend dark grey shade towards the eyebrows. We don't want our hooded eyes to look droopy or tired. So, create the illusion by applying dark shads upward, will help to create the illusion of opened eyes.
It's time to apply light beige shade on your dark grey eyeshadow makeup. It helps lighten the dark shades and make them blend beautifully.
So yeah, to make your eyes pop, just dab the dark color on the corner of the eyes. Also, extend it outward and upward to make it more elegant.
3) Apply Liquid Eyeliner
Okay! Now, create the winged effect with liquid eyeliner. Eyeliner can define your look. A perfectly made wing with eyeliner can spark up your look. On the other side, a poorly done wing can ruin your look. It can make your eyes look smaller.
So, whenever you are gonna apply eyeliner, try to apply a thin line towards the outer corner to perfectly creating a lifting effect.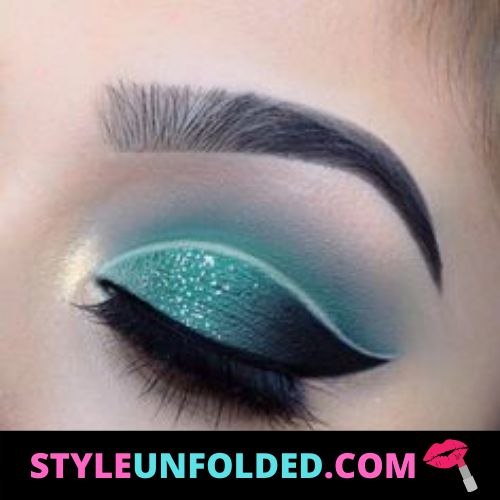 4) False Eyelashes
It's an important step for creating a great smokey eyeshadow look. Eyelashes are essential for a prominent look with hooded eyes.
If you have naturally long and beautiful lashes then you can skip false lashes, else always go for it. Don't be afraid to use them.
Note: apply mascara, to make your lashes open and standing upward.
We're heading towards the end of this quick guide, Hurray! Now, check your eyeshadow makeup look. You just need to get rid of the excessive shades with wipes. Done? Let's move to our final step.
5) Lower Lash Line
Add more brightness to your eyes by applying light blue color to your inner lower lash. Start from the innermost part and move to the center of your lower lash line.
To make it look better, use dark grey color from outside of your lash line toward the center.
Finally! Complete your smokey eyeshadow look with hooded eyes with a coat of mascara.
Note: Don't make your eyes look droopy or heavy by applying a thick coat of mascara.
Final Touch: Gently blend the shades by using a good-quality makeup brush. Focus on dark shades because they tend to appear uneven.
Conclusion:
So, how do you find this guide on, how to apply eyeshadow for hooded eyes? Also, do you like our bonus guide to creating a smokey eyeshadow look with hooded eyes?
I hope now you'll get your desired makeup look with hooded eyes by following our expert tips and tricks. Please do let me know in the comments. Also, share with your loved ones, who are finding it difficult to apply makeup on hooded eyes.