Looking to add something healthy to your diet plan that is also beneficial for weight loss? So yeah, tuna is one of the best options. Tuna is good for weight loss due to its nutritional properties.
Tuna is low in calories and a good source of omega-3 fatty acids, carbohydrates, a protein which increases the fat-burning process.
Also, the 3-day tuna diet is famous for rapid weight loss. In this article, we'll discuss how tuna will help you in fat loss. Moreover, numerous health benefits of tuna will make you fall in love with it.
Is Tuna Good for Fat Loss and Muscle Building
Yes! tuna is good for fat loss and muscle gain. Because it's fully loaded with essential nutrients such as protein, omega-3 fatty acids, selenium, thiamin, riboflavin, phosphorus, amino acids, etc. Omega-3 fatty acids and selenium play a vital role in weight loss. Moreover, tuna contains 29.9 grams of proteins per 100 grams that help in building muscles.
Nutritional Value of 100 grams cooked Blue Fin Tuna

Vitamin B12
181% of the daily value
Niacin
53% of the daily value
Vitamin A
50% of the daily value
Vitamin B6
26% of the daily value
Vitamin B5
14% of the daily value
Selenium
67% of the daily value
Phosphorus
33% of the daily value
Thiamin
19% of the daily value
Riboflavin
18% of the daily value
Must Read: Which Cheese Is Good for Quick Weight Loss | Nutrition, Calories
Is Tuna Healthy for Weight Loss
Yeah! Tuna is healthy for weight loss. Tuna is a potent source of nutrients that include lean protein and antioxidants, such as selenium and omega-3 fatty acids. These can play an important role in keeping our eyes, hearts, and brains in good health. The fish also has nutrients that aid in the growth and development of children.
When you consume canned tuna, you are getting a good amount of niacin as well as Vitamin B12 and vitamin B6.
Nutritional Properties of Canned Tuna Packed in Water Per 56 grams Serving

Calories
49
Protein
11 g
Sodium
140 mg
Total Fat
0.5 g
Fiber
0 g
Saturated Fat
0 g
Total Sugars
0 g
Total Carbohydrates
0 g

Nutritional Properties of Canned Tuna Packed in Oil Per 56 grams Serving

Calories
112
Protein
17 g
Sodium
236 mg
Total Fat
5 g
Fiber
0 g
Saturated Fat
1 g
Total Sugars
0 g
Total Carbohydrates
0 g
3-Day Tuna Diet for Weight Loss
To get the best results, it is recommended to drink 2 to 4 liters of water and consume 1 to 1.5 grams of tuna for every 1 pound of body weight, in one day. Keep in mind that tuna should be stored in water, and not vinegar, oil, mayonnaise, or other spices.
190 – body weight per pound * 1.5-gram protein = 285 grams protein per day
285 gram / 6 meals = 47.5 gram per meal
Do not consume all of the protein in one go. Divide it into six meals, and eat all day long. Also, take the recommended antioxidants, vitamins, fiber, and minerals from supplements for three days. Do not eat any other food for this reason.
After three days, you may incorporate more foods into your diet. However, you should only eat foods that are packed with protein but low on calories such as cheese, chicken, low-fat cottage vegetables, salad, and low-fat cottage cheese. Also, you must train to attain the desired outcomes.
What You Should Do After Tuna and Water Diet for Weight Loss
You may reduce water weight and boost your metabolism, it's not enough to burn fat. You need to make the following lifestyle adaptations.
1) Follow a Healthy and Nutritious Diet Plan
Daily, consume 3-4 portions of fruit and vegetables. Healthy fats, nuts as well as fish oil supplements, and Vitamin E supplements. Fish, avocado, and nuts are great options. Beware of junk food to remain healthy and fit.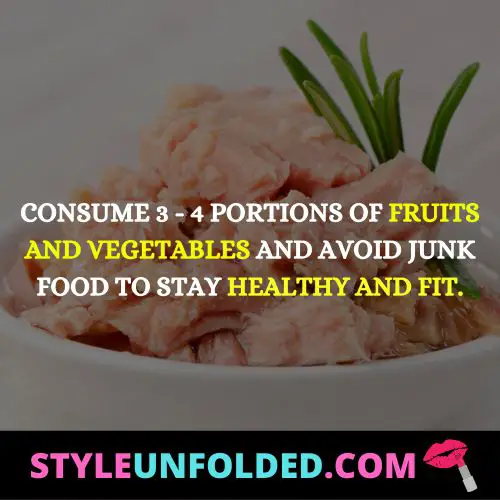 2) Avoid Unhealthy Food
While unhealthy foods can be tempting, it's one of the major reasons for the rise in obesity. It is possible to start small steps towards a trimmer and a healthier body by deciding to stay away from unhealthy foods. The results will be evident by making conscious efforts.
3) Daily Workout
The results won't be as impressive If you exercise only for three days. It is recommended that you exercise at least three hours a week. You can take up an activity or dance in the fitness center. You'll be healthier and more fit after doing exercises. You will also notice a glow on your skin.
4) Take Time for Yourself
Give yourself the time to improve mental and physical health. It's just as important to build a healthy connection with oneself as in any relationship. There are many ways to see yourself and not be in the hands of others. This allows you to look at your bad habits and figure out what you can do to improve your overall health.
5) Get Proper Sleep
Sleeping well is essential to maintaining good health. Sleep lack can slow the process of losing weight. You must get a minimum of seven hours of rest each evening. Get up early so that you can exercise and eat breakfast before going to work or performing any other job.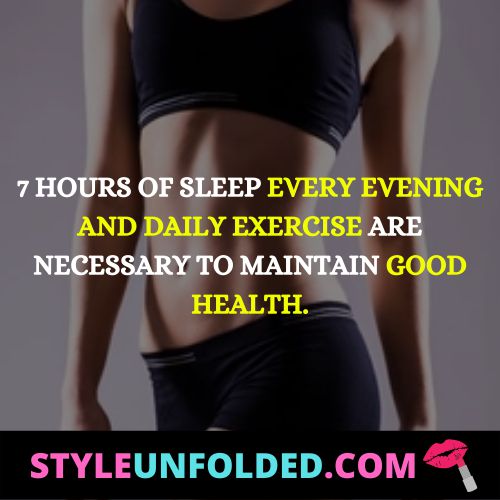 6) Meditate
Meditation is essential for your brain to let relax and focus on the exercise and diet program. You'll experience happiness and satisfaction as well as other positive feelings instead of sadness, anxiety, and dissatisfaction.
You'll be able to control your mood and be more relaxed, which will aid in adhering to the plan to lose weight. Positive energy can help you to make better decisions regarding your workout and diet and will aid in losing weight.
Also Read: Complete Kombucha Weight Loss Guide to Shed Some Pounds
Benefits of Eating Tuna for Weight Loss
The benefits of eating tuna can include its capacity to prevent cardiovascular problems, increase the growth of your child, reduce cholesterol and blood pressure, and aid in weight loss. Tuna is also able to boost your immune system, improve energy levels as well as help with skincare, boost the number of red blood cells in your body, and could even possess anti-cancer properties. Tuna can also help protect against kidney-related illnesses, reduce macular degeneration due to age, decrease general inflammation and prevent damage to cell membranes.
Read on to explore the real health benefits of eating tuna fish for weight loss.
1) Tuna May Improve Heart Health
One of the greatest health benefits that tuna fish can provide is its positive impact on your heart health. The high levels of omega-3 and omega-6 fats in tuna fish can reduce the risk of heart disease. Additionally, it replaces high levels of saturated fats, further lowering the risk for heart diseases. According to a study published in the Journal of the American Medical Association, women who eat more omega-3 fats and tuna are at lower risk of heart disease.
2) It May Improve Blood Pressure
Blood pressure can be reduced by the anti-inflammatory omega-3 fatty acids. Potassium, found in tuna and other foods, may act as a vasodilator, which can help lower blood pressure. Hypertension can be a major contributor to your health. It will reduce the strain on your heart. This can help prevent strokes and heart attacks, as well as other conditions such as atherosclerosis.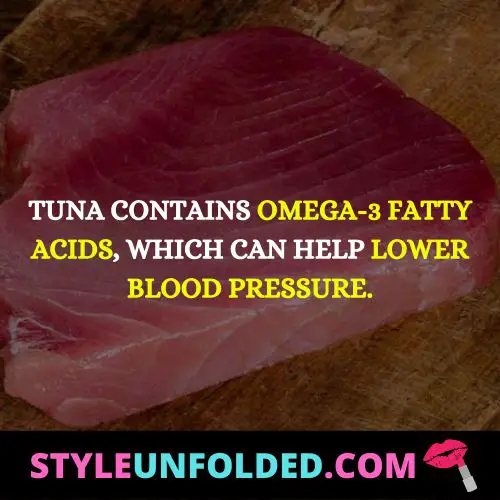 3) Tuna May Aid in Eye Care
Tuna fish may be an excellent option to prevent eye diseases such as age-related macular damage. A comprehensive research study was conducted by scientists to determine the role of dietary omega-3 fats in preventing the progression and development of retinal disease. Blindness is a major cause of death in the elderly. Blindness can also be caused by diabetic complications. Tuna fish can help to reduce the risk of developing diabetic retinopathy.
4) Body Growth and Development
Tuna fish has high levels of protein. One serving of 165g contains more than 80% of your daily protein needs. Proteins are essential building blocks for our bodies. They can ensure growth, better muscle tone, better metabolic efficiency, faster healing from illness and wounds, and improved metabolism.
5) Tuna May Boost Immune System
Tuna may contain a high amount of vitamin C and zinc. These are all potent antioxidants found in nature. Antioxidants protect the body from free radicals. These are the by-products of cell metabolism that can cause chronic diseases. The real hero of tuna's immune-system-boosting potential is selenium. Tuna is fully loaded with minerals and provides nearly 200% of your daily requirements in one serving. This makes tuna fish an immune-boosting and powerful antioxidant food.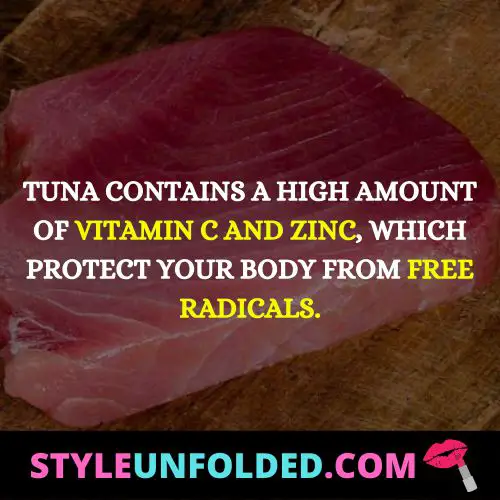 6) It Boosts Energy Levels
The B-complex vitamins in tuna are linked to numerous health aspects. They play a key role in energy metabolism. They are enhancing the efficiency of organs and protecting skin and improving the levels of energy. Vitamins B-group acts as cofactors for enzymes, and speed up metabolic processes, allowing them to generate energy at the pace needed by us. When you consume tuna fish regularly it will make sure that you're healthy, active and fit.
7) Tuna May Improve Blood Circulation
Tuna is a good source of iron, as well as the B-complex vitamins which play a crucial role in the formation of red blood cells. Without iron, individuals become anemic and their blood becomes not able to properly oxygenate vital organs, which require fresh oxygen to function properly.
8) Tuna has Anti-Cancer Properties
Tuna fish has strong antioxidant properties, due to selenium as well as other nutrients that are efficient in stopping certain types of cancer. According to the American Association for Cancer Research study, researchers found that consumption of fish, particularly the type of fish that is fatty could reduce the risk of getting cancer of the colon.
9) It May Provide Relief in Kidney Diseases
The sodium and potassium content in tuna is balanced. It may be rich in potassium, but not so much in sodium. This assists in maintaining fluid balance within the body. When your body has an equilibrium of fluids, the kidneys function well, thus less likely to develop serious kidney problems.
10) Tuna Can Reduce Inflammation
Tuna fish is a great source of protein to reduce stress levels in check through reducing inflammation due to its anti-inflammatory potential minerals and vitamins. The reduction of inflammation throughout the body can lead to improved performance of every organ. It also aids in preventing inflammatory illnesses like arthritis and Gout, which both affect millions of people across the globe.
11) Tuna May Reduce Cell Membrane Damage
When tuna fish is cooked the proteins within it split into small pieces known as peptides. These fragments can be powerful antioxidants, specifically targeting cell membranes and keeping them strong, healthy, and working properly. Free radicals are known to target membranes throughout our body, including those of the brain. Therefore, eating cooked tuna to improve membrane protection is a sensible option.
For You: Is Shrimp Healthy? Calories, Nutrition and Shrimp Recipes
Can I Eat Tuna Every Day and Lose Weight?
Tuna is extremely nutritious and is loaded with healthy fats, protein, and vitamins. However, it shouldn't be consumed regularly. The FDA recommends that adults consume 3 to 5 pounds (85-140 grams) of fish three times every week to obtain sufficient omega-3 fatty acids as well as other nutrients that are beneficial.
Conclusion
Is tuna good for weight loss? I hope that you have an answer to your question. Tuna diets are the most efficient way to shed weight. It is rich in proteins and vitamins, antioxidants fibers, and other vital components that are essential in weight loss.
However, make sure to consume moderate quantities of tuna. It contains a greater quantity of mercury. It can trigger serious diseases like kidney failure, cancer as well as heart attacks, and slow metabolism.
Consult your physician before deciding to go on a tuna diet for weight loss. The tuna diet is beneficial to last for a shorter period. If you're looking for long-term results then you should adhere to a healthy diet that is filled with healthy fruits and fresh vegetables.