I know weight loss is a big challenge. It's not easy to avoid your favorite food and follow a certain diet plan to shed some pounds. But how good is that if you find a way to lose weight by eating your favorite food?
Many weight watchers are asking, "Is shrimp good for weight loss?" If cooked correctly and consumed in a moderate amount, shrimps can be an excellent choice of food to lose weight. Shrimps are filled with vital nutrients and proteins and are very light on calories. Also, shrimps are a great alternative if you're looking for a way to burn fat healthily and maintain your lean muscle.
Also, we'll discuss how shrimp can help burn body fat and shrimp nutrition data, and many more.
So, read on to get the most out of it.
Can You Lose Weight by Eating Shrimp?
Weight loss isn't easy because diet plans typically limit the types of food you can eat. Shrimp contains nutrients like vitamin B12, vitamin E, Niacin, as well as omega-3 fatty acids. Shrimp's saturated fat content is low. So, as long as you consume shrimp in moderation and limit the calories content of your meals. It is possible to eat shrimp and shed weight.
Shrimp Nutrition Data
Nutritional Properties of a 3-ounce serving of Shrimp

Calories
84
Protein
18 g
Iron
15% of the daily value
Zinc
9% of the daily value
Selenium
48% of the daily value
Vitamin B12
21% of the daily value
Niacin
11% of the daily value
Magnesium
7% of the daily value
Phosphorus
12% of the daily value
Also Check: Complete Kombucha Weight Loss Guide to Shed Some Pounds
How to Cook Shrimp for Weight Loss
This protein-filled shrimp is a favorite amongst the cooks for quick meals. Before cooking, we suggest getting the shrimp deveined first. Utilizing the sharpest paring knife, make a small cut along to the inside of the shrimp. This will reveal the vein. Pull it out. The shell is the last thing to be removed. keeping it on or removing it is dependent on your preference. It can be beneficial when you're just beginning to cook shrimp. The shell functions as a shield and keeps the shrimp moist and making sure that they don't overcook.
Is Cooked Shrimp Good for Weight Loss
Shrimp offers numerous health benefits because of its rich content of Omega-3s, Vitamins, and minerals. Because shrimp is rich in protein content, it's exceptionally filling and nutritious despite being extremely low in calories. Because of this, cooked shrimp can be considered among the best nutritious foods for weight loss that you can eat.
Nutritional Properties of a 3-ounce serving of Cooked Shrimp

Calories
101
Protein
19 g
Fat
1.4 g
Cholesterol
179 mg
Sodium
805 mg
Vitamin A
5.1 % of the daily value
Vitamin C
0% of the daily value
Calcium
6% of the daily value
Iron
1.5% of the daily value
Potassium
145 mg
Carbohydrates
1.3 g
Must Read: Which Cheese Is Good for Quick Weight Loss | Nutrition, Calories
Is Grilled Shrimp Good for Weight Loss
For a weight watcher, grilled shrimp can be a great addition to the diet plans. It's fully loaded with essential nutrients that help burn body fat and improve physical health. But you should avoid unnecessary sauces that can reduce the health benefits of shrimp.
Nutritional Properties of a 3-ounce serving of Grilled Shrimp

Calories
101
Protein
19 g
Fat
1.4 g
Cholesterol
179 mg
Sodium
805 mg
Vitamin A
5.1 % of the daily value
Vitamin C
0% of the daily value
Calcium
6% of the daily value
Iron
1.5% of the daily value
Potassium
145 mg
Carbohydrates
1.3 g
How to Eat Shrimp for Weight Loss
You can curb your hunger and consume fewer calories by focusing on low-calorie, high-volume meals. It is recommended that you eat a variety of foods. Centers for Disease Control and Prevention suggests that you include vegetables in your shrimp meals for weight loss. Grilling shrimp with a green salad or stir-fry using broccoli, celery, and Bok choy could aid in weight loss fast.
It is also possible to make low-calorie, high-volume meals using shrimp-like soup that is made from low sodium broth as well as vegetables. Additionally, you can grill shrimp using fruit salsa, which is made from orange wedges and lime juice Apple slices, onions tomatoes, and onions.
It is possible to reduce the calories in certain recipes that include shrimp. Additionally, you can alter the recipes to aid in weight loss. If you're making a dip for shrimp or salad, make use of plain Greek yogurt which contains low levels of fat. Prepare a salad with freshly cooked shrimp, steaming green beans garlic, black pepper along with low-fat Feta cheese instead of pasta or potato salad with shrimp.
Also Check: 3-Day Tuna Diet for Weight Loss
Is Shrimp Healthy Option for Weight Loss
Shrimp is low on calories yet is high in protein and important minerals that make it an excellent option for a high protein diet for weight loss. Since it is low in carbohydrates it can be an excellent source of protein in low-carb diets such as the Keto shrimp diet.
Shrimps are not high in fat and cholesterol, making them an ideal option for diets with low fat. In addition, they are rich in minerals that are essential to your health and will help you feel fuller while keeping calories lower.
Iodine is a vital mineral that many people are deficient in. Shrimp is among the top sources of Iodine. Iodine is crucial to maintaining healthy thyroid function and the health of the brain.
Additionally, it is a fantastic source of Omega-3 and Omega-6 fats. Shrimp also has antioxidants called astaxanthin. It could provide numerous health benefits.
Shrimp Diet for Weight Loss
Shrimp is among the most well-known types of shellfish. It's extremely nutritious and includes significant amounts of nutrients like iodine, which aren't in all other food items.
Let's check out some delicious shrimp diets for weight loss.
1) Cajun Shrimps and Grits
Nutritional Content: It contains 461 calories, 857 mg sodium, 4 grams fiber, 4 grams sugar, 19 grams fat, 30 grams protein, and 43 grams carbohydrates per 6 servings.
This shrimp recipe for weight loss is great for those who are a fan of southern cuisine. Serve Cajun-style shrimp with a spicy flavor on a bed of creamy, stone-ground home-style grits. Add an accompanying dish of sauteed baby kale that is garlicky. This recipe can be made fast by keeping the spice cupboard full of metabolism-boosting spices including paprika.
2) Chopped Salad for Weight Loss
Nutritional Content: This healthy keto shrimp recipe for weight loss contains 400 calories, 362 mg sodium, 19 grams carbohydrates, 3 grams sugar, 24 grams protein, and 25 grams fat per 6 servings.
This salad is an excellent option for a lighter brunch meal. Everyone loves a great salad. However, this one is packed with half of the daily recommended amount of protein. This includes eggs, shrimp, bacon, Greek yogurt. Protein-rich individuals have a higher likelihood of building and maintaining muscle mass and maintaining their metabolism which helps to reduce fat.
3) Shrimp Fried Quinoa
Nutritional Content: This healthy and delicious recipe contains 432 calories, 13 grams fat, 44 grams carbohydrates, 6 grams fiber, 753 grams sodium, 32 grams protein, and 10 grams sugar per 4 servings.
With its high protein content, thank shrimp and the quinoa for their combination of muscle-building. Quinoa is a plant-based source of protein, is among the few that contain all nine amino acids essential to human health. L-arginine is one essential amino acid and has been shown to improve muscle strength, rather than weight gain.
I'm sure you'll never order fried rice for dinner ever again. Because of the bright taste of freshly grated ginger, sesame oil as well as the delicious combination of onions, carrots, and snow peas. These can all be cooked in just 30 minutes.
4) Thai Coconut Curry Shrimp Noodle
Nutritional Content: It contains 450 calories, 856 mg sodium, 2 grams fiber, 15 grams protein, 15 grams fat, 2 grams sugar, and 21 grams carbohydrates per 4 servings.
This shrimp recipe for weight loss can help you create your favorite curry at home. It's got lauric acid which is a healthy and essential fat that your body uses to generate energy, instead of storing it for later use. Coconut milk is rich in lauric acid which can aid in weight loss. The tart lime juice is an uplifting flavor to the dish. It perfectly complements the shrimp mix of vegetables.
5) Coconut Shrimp with Spicy Thai Mango Sauce
Nutritional Content: A good option for weight loss with 289 calories, 695 mg sodium, 2 grams sugar, 30 grams protein, 4 grams carbohydrates, and 5 grams fat per 4 servings.
Coconut shrimp is an essential part of any shrimp recipe collection for weight loss. Fresh prawns are made from coconut shrimp. It's breaded using panko breadcrumbs and dried coconut. It's then baked and served with mango sauce, which is spicy and healthy.
6) Coconut Pineapple Shrimp Skewers
Nutritional Content: It contains 165 calories, 595 mg sodium, 12 grams carbohydrates, 1 gram fiber, 2 grams fat, 24 grams protein, and 7 grams sugar per 4 servings.
This recipe is the ideal way to add an appetizer to your backyard barbecue. The guests will be talking about it. The exotic blend consisting of coconut milk, soy sauce, orange juice, lime juice, and hot sauce makes an authentic Thai-inspired sweet and salty marinade. It's perfect with the sweetness of charred chunks of pineapple.
Health Benefits of Shrimp
The advantages of eating shrimp include better brain and bone health, weight control, and a lower chance of suffering from cardiovascular disease. Shrimp has anti-inflammatory as well as anti-aging properties that aid in reducing the chance of developing various diseases. Shrimp is a great aid in treating macular degeneration due to age and alleviating eye fatigue. It could also offer relief from menstrual discomfort. Shrimp is an excellent choice to boost the overall quality of your life in an absolutely tasty way.
Let's explore the health benefits of shrimp in detail.
1) Shrimp is Fully Loaded with Nutrients
By eating 4 oz of cooked shrimp, you can receive 100 percent of your daily intake of selenium. They contain 75 percent vitamin B12 and 50% phosphor and greater than 30% Iodine, krulin, and 75% vitamin B12. Shrimps are rich in a mineral known as Iodine that can increase the immune system and also provide antioxidants that aid in fighting free radicals.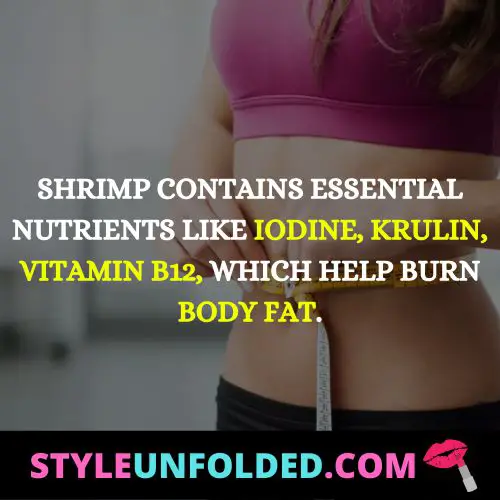 2) Shrimp May Prevent Prostate Cancer
48 percent of our daily intake of selenium is essential to remain healthy. Shrimp is a fantastic source of selenium. Selenium deficiency could cause a variety of cancers, including prostate cancer. Food Research Institute researchers have discovered that selenium and sulforaphane could boost the immune system 13 times.
3) It Improves Bone Health
Two important ingredients that are essential for healthy teeth and bones include calcium as well as phosphorus which are both present in shrimp. Since shrimp contain glucosamine which is beneficial for joints and cartilage it is recommended to eat them with their skin.
4) Shrimp Can Balance Hormones
Consuming shrimps may balance hormones. This is the most crucial aspect. Particularly if you enjoy sports. Shrimps are a great source of protein that is great for balance and hormone production. Shrimps are essential when you're looking to increase the size of your muscles.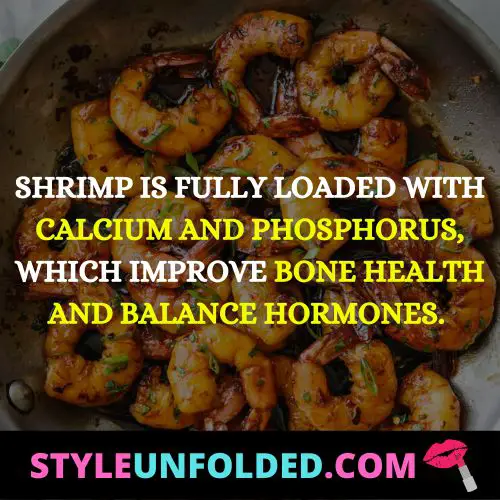 5) Shrimp is Loaded with Omega-3
Omega 3 plays a vital role in improving the health of your brain and its functioning. Many people think that shrimps might increase the level of bad cholesterol, which is why they do not include shrimps in their diets that are healthy. Numerous studies have revealed that shrimps have different amounts in omega-3. A 4-ounce portion of shrimp has 50 percent Eicosatetraenoic acid, also known as EPA.
It also has Docosahexaenoic acid, which is also known as DHA in a balanced percentage of 50 percent. DHA, as well as EPA, are two kinds of omega 3 that play an essential role in maintaining the health of nerves. They also aid in preventing heart disease.
6) Anti-Inflammatory Agent
According to studies, shrimps have substances that can be used to treat inflammation. Shrimps are stocked with Astaxanthin available on their shelves. Astaxanthin is a substance that is utilized to treat and prevent inflammation.
7) Shrimp can Cure Anemia
There are many vital nutrients in shrimp. Vitamin B is found in shrimps, but it isn't the only one. There are numerous types of vitamin B like Vitamin B6, B12 as well as Niacin. Vitamin B is essential in maintaining blood pressure and preventing anemia. Anemia patients can eat shrimp as part of treatment.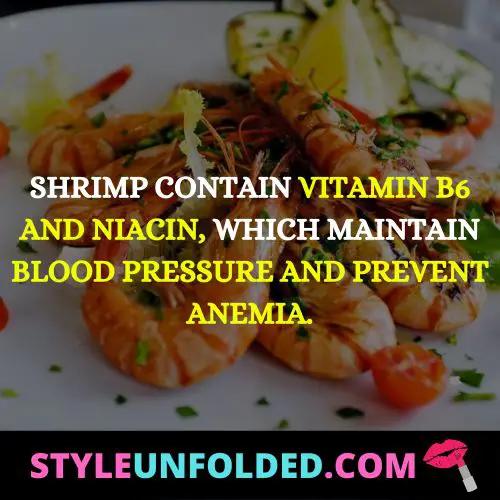 8) Good Source of Iodine
There is a belief that shrimps possess large amounts of iodine that is healthy. It is crucial to the well-being of the thyroid glands. The thyroid glands are crucial to controlling our metabolism and weight. A pregnant woman needs iodine to aid their infants' brain.
9) Shrimp Improve Eye Health
Shrimp is rich in astaxanthin. Astaxanthin shields the retina from damages caused by oxidative exposure to sunlight or UV rays. Astaxanthin in combination with other elements could lead to an improved center of vision.
10) It Prevents Heart Diseases
Shrimp contains a low amount of cholesterol which means it's healthy to eat. Also, it reduces the chances of developing the coronary disease by decreasing LDL cholesterol and raising HDL cholesterol. Omega-3 fats, which can be found in shrimp, possess anti-inflammatory properties.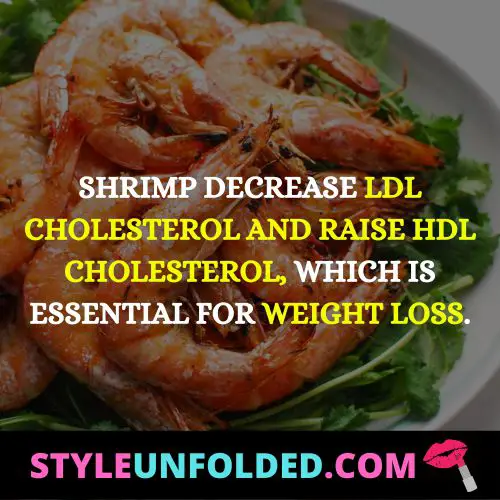 11) Shrimp can Improve Skin Health
The sun is a major reason for skin aging. Even a brief exposure to UVA and sun can result in wrinkles, sunburns, and spots. There are chances of shedding and beautifying by including shrimp in the menu of your weekly or daily meals.
Astaxanthin is one of the carotenoids that can be found in shrimp. This powerful antioxidant may minimize the signs of skin aging caused by UVA or sun exposure. To reduce the appearance of wrinkles and spots it is recommended to add shrimp cocktails into your diet every week.
Side Effects of Eating Too Much Shrimp
Shrimps are believed to be a cause of high LDL cholesterol. This cholesterol causes plaque to form in your arteries. This can result in the risk of a heart attack or stroke. The clot forms when the plaque in your artery becomes large enough to block the circulation of blood. If you're eating shrimp excessively, you're increasing the amount of LDL cholesterol to the point of putting yourself at unnecessary risk.
Conclusion
So, is shrimp good for weight loss? It's certainly a good source of protein as well as antioxidants, vitamins, and other nutrients that could aid in weight loss. However, high-quality health benefits are evident in shrimp. It's high in nutrients like astaxanthin. This is essential for the health of your brain, and also reduces the chance of developing heart and skin diseases.
The high cholesterol level is a negative side of eating shrimp. However, it may also be responsible for increasing HDL and decreasing LDL cholesterol. Make sure to consume a moderate amount of shrimp for the best outcomes. In excess, it can affect your health and result in various illnesses.
Always consult with your physician before you add shrimp into your diet for weight loss.