Kombucha is getting popular due to its health benefits and weight loss properties. Tea lovers all around the globe love to add this drink to their healthy diet plans.
Many people also want to know, "Is kombucha good for weight loss?" if your current routine is not showing fruitful results then you need to change your diet plan.
By adding kombucha to your meal, you can shed some pounds. Because the nutritional properties of kombucha help you burn body fat and keep you healthy.
Kombucha also contains essential antioxidants, catechins, and minerals that help prevent harmful diseases like heart attack, cancer, and diabetes-2.
In this detailed weight loss guide, we'll explore every aspect of this magical kombucha drink regarding weight loss.
What Is Kombucha?
Kombucha can be described as a bubbly, sweet, and sour beverage made from tea. Many claim it can prevent various health issues such as hair loss, weight loss, cancer, and AIDS. There is little evidence from science to support the claims, however, some components of the drink might be beneficial for your health.
Kombucha is a drink that has been around for two thousand years. It was first made in China before spreading across Japan and Russia. It gained popularity in Europe during the first half of the 20th century. The sales within the United States are on the increase due to its popularity as a healthy and energy drink.
Kombucha Ingredients
The main ingredients of kombucha are sugar, yeast, and black tea. The mixture is kept in a container for up to a week. It will then develop acid and bacteria within the beverage, as does some alcohol. This is known as fermentation and is like how cabbage is preserved in sauerkraut or kimchi, and the process of turning milk into yogurt.
Does Kombucha Help Lose Belly Fat
The acid found in kombucha like acetic acid can provide weight loss and health benefits too. Acetic acid can be described as the main ingredient in kombucha which gives it its vinegar-like taste. But more importantly, it has been found to improve insulin sensitivity and aid in reducing blood sugar levels during fasting.
Kombucha is a fantastic choice to rehydrate and recharge your body after exercising. A few studies have indicated that green tea, which is an important ingredient in kombucha, can help increase your metabolism and assist in weight loss and fat burning, making Kombucha an excellent drink to aid in weight loss. Also, you can use shrimp for weight loss.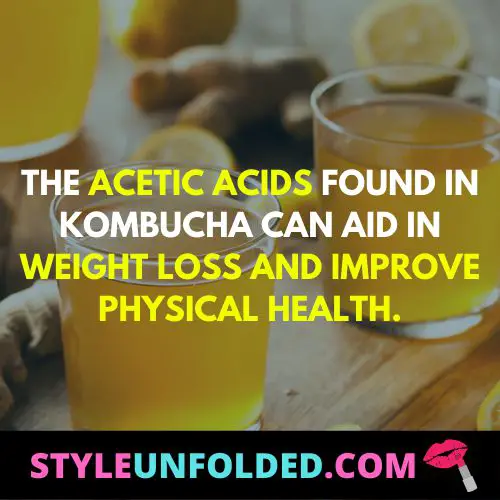 Does Kombucha Have Caffeine
Kombucha contains a small amount of caffeine. Because the tea leaves used in the making of Kombucha (black green, white, and Oolong) naturally contain caffeine. While caffeine is present in kombucha, the amount is very minimal, with an average of about 15mg per serving which is barely noticeable to those who are sensitive to caffeine.
Does Kombucha Have Alcohol
The process of fermentation converts sugar and carbohydrates into alcohol. Since kombucha is made through fermentation, each fizzy teas contain a tiny amount of alcohol. The majority of commercially available kombucha contains less than 0.5% ABV. Because yeast and bacteria help keep the alcohol levels at a minimum. This is the reason why traditional kombucha is considered "non-alcoholic."
How to Drink Kombucha for Weight Loss
Drink kombucha before meals to help improve digestion. You'll likely shed pounds by sipping kombucha before meals. The taste of sourness can reduce your appetite. Drinking it with your meal could render the nutrients contained in your food unusable.
It's also a fantastic substitute for coffee. Kombucha contains caffeine and is great for people who have low energy levels. It is important to keep in mind that kombucha contains alcohol as a result of the process of fermentation. To stay well hydrated, drink plenty of water.
It is not advised to drink kombucha before going to bed as it's a source of caffeine. It is important to prepare it properly to prevent contamination and harmful bacteria. Any substance that is consumed in excess can be harmful. It is a source of acetic acid, therefore you should not drink too much. It could cause damage to the enamel of your teeth.
Is Ginger Kombucha Good for Weight Loss
Ginger kombucha drink is well known for aiding in weight loss and diabetes. It also boosts your immune system, lowers blood pressure. Kombucha is also said to aid in hemorrhoids, gout, rheumatism, nervousness, liver function, and fight against cancer.
Also Check: 3-Day Tuna Diet for Weight Loss
Way to Use Kombucha to Lose Weight
Before we get started, I'd like to clarify one thing. None of the successful stories claimed Kombucha was the primary reason for them to lose weight. It was more of an effective tool that was part of a larger process. In certain instances, it was the initial domino that triggered a chain reaction.
1) Cut Down Your Sugar Consumption
Sugar is extremely addicting. It's also been found that it is directly related to weight gain. Therefore, any assistance in reducing your intake of sugar can help you shed weight.
Kombucha can ease cravings for sugar in a variety of ways. First of all, kombucha contains some sugar. Instead of quitting completely, many people find it easier to make substitutes. The good thing is that it has a sugar level lower than other drinks made from natural ingredients as well as the sugar is been processed by yeast, making it much easier for your body to deal with it.
2) Boost Health of Gut Bacteria
The improvement of your gut bacteria could affect various aspects of your health including your weight. A healthy amount of bacteria can assist you in processing the nutrients of food items while removing the waste that can cause your body weight to increase.
Because kombucha is awash in probiotics, small portions spread throughout the day are likely to aid in balancing bad bacteria with benefits. I recommend sticking to 4 Oz. at least three times per day. The ideal is to consume kombucha before each meal.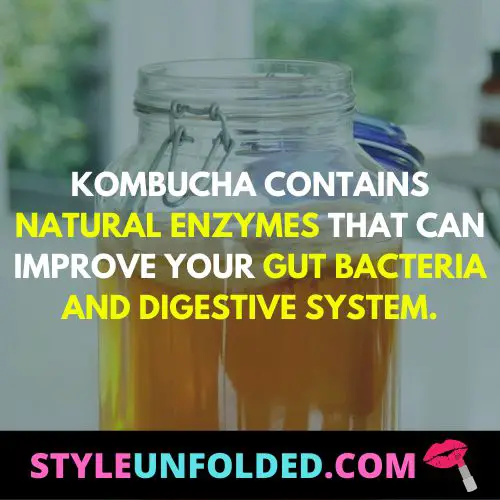 3) Improve Your Digestion
Kombucha is packed with natural enzymes that aid in breaking down the food items in the digestive system. These enzymes are made by yeast and help break down nutrients into more digestible forms for bacteria to process. The best part is that we can make use of these natural enzymes to provide a nutritional supplement. Foods are easily broken down, making them easy to digest.
4) Replace Alcohol and Coffee
Kombucha may help with this too. Kombucha is a source of tannins and acids that give it a distinctive flavor. This flavoring makes it the perfect substitute for coffee and alcohol. Our brain release dopamine whenever we drink coffee and alcohol. The brain can be tricked to believe it's about enjoying a delicious shot of caffeine by drinking the kombucha drink instead.
5) Avoid Soda
The acidic taste and the low sugar content, make kombucha the perfect complement to your craving for soda. Sugary drinks are not good for weight loss. They're among the most calorific food groups and they provide no nutritional value at all.
Instead, sip an ice-cold glass of kombucha whenever you normally drink an alcoholic drink. You'll still get that sparkling sweet, acidic drink that you've been craving. However, this time it's packed with nutrients, not just empty calories. Slowly wean your body off soda, you can cut down on significant calories in your diet.
Must Read: Which Cheese Is Good for Quick Weight Loss | Nutrition, Calories
Does Kombucha Make You Fat?
Kombucha can cause weight gain due to the addition of unneeded calories into your food. But, if taken in moderation and with calories counted the kombucha's low caloric, as well as sugar content, could be an alternative to higher-calorie alcohol- and sugar-based drinks. Probiotics found in kombucha can aid in weight loss.
12 Scientifically Proved Benefits of Kombucha
Kombucha is a fermented tea that people are using for weight loss for hundreds of years. Not only does it offer the same health benefits as tea, but it's also high in beneficial probiotics. Kombucha also has antioxidants that kill harmful bacteria and could help fight various illnesses.
Following are the health benefits of kombucha based on research-based evidence.
1) Anti—Aging Properties
Aging isn't only about what happens on the outside, but also within. Kombucha has antioxidants that reduce the effects of cell aging. Skin cells lose elasticity as we get older.
Kombucha tea contains powerful antioxidants, known as EGCGs which are 20x more effective in fighting free radicals that may harm your cells than vitamins. Research has shown that EGCGs have been linked with healthier skin and an impressive reduction in wrinkles on the skin.
2) Kombucha May Prevent Chronic Diseases
Kombucha is, along with other vegetables and fruits, has been proven to reduce the risk of some chronic illnesses like high blood pressure and cancer. The popularity of Kombucha in functional food is due to its health benefits.
This includes the capability to lower cholesterol, blood pressure as well as cancer prevention, improvement of the liver's immune system, and improve digestion.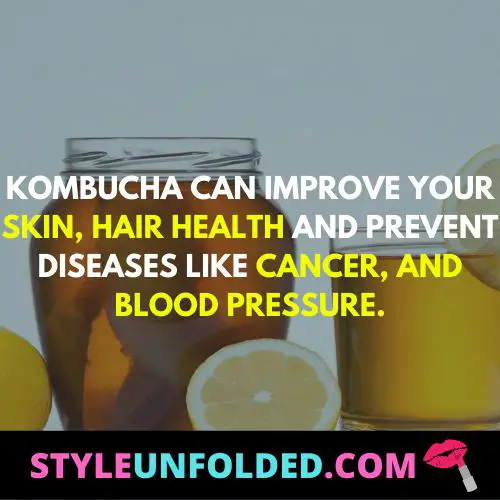 3) Kombucha can Improve Skin, Hair & Nail Health
Do you have ambitions for your hair, skin, and nails? Kombucha contains a variety of B vitamins, which could be beneficial. Kombucha is a rich source of B vitamins, such as B1, B2, B6, and B12 that are essential to maintaining and production in healthy cells. Consuming the kombucha vitamin B cocktail' can improve your skin's glow and improve your hair and nails.
4) Kombucha May Kill Harmful Bacteria
The chemical structure of Kombucha has been proven to eliminate harmful bacteria within our bodies. Kombucha can be naturally antimicrobial, which means it removes harmful bacteria and harmful toxins. Kombucha is also a source of acetic acid that aids the process. The benefits of these ingredients are also demonstrated to combat foodborne illnesses like salmonella, listeria, and E. coli.
Kombucha's pH levels can eliminate strep and other bacteria which you may have picked up on your subway journey to work.
5) It Boosts Immunity
A healthy immune system needs the diversity of microbes in your microbiome. Kombucha can assist you in acquiring the right bacteria. Kombucha as well as other fermented food items like Kimchi, yogurt, and tempeh, has positively impacted the microbiome in your gut. Kombucha helps to feed the beneficial bacteria that live within your digestive tract.
6) It Improves Digestive System
Kombucha is a fantastic alternative for those who have trouble digesting. Kombucha is a fermented drink that can be highly beneficial to the microbiome of your gut. It helps to replenish healthy bacteria that support digestion health. If our gut health is at its best, digestion is improved. Drinking beverages and foods that contain fermented ingredients can aid in this.
7) Kombucha is a Source of Probiotic
Kombucha like we've already discussed is made using bacteria added to either green or black tea. The Kombucha can be left to ferment for at least one week.
This is where yeast and bacteria combine to form mushroom-like films on the surface of the liquid. This is the reason why tea made from mushrooms is often referred to as "mushroom tea".
It is an acid created through fermentation. It is present in vinegar. Based on analysis it is believed that the tea contains an abundance of lactic acid bacteria. They could have beneficial properties for probiotics.
8) Kombucha May Prevent Cancer
Cancer is among the most prevalent causes of death in the world. Cancer is defined by the uncontrolled growth of cells mutations and other diseases.
Kombucha tea has been shown to stop the growth and spread of tumorous cells within test tubes. This is due to the large amounts of polyphenols and antioxidants in Kombucha tea.
Polyphenols have been proven to stop genetic mutations and also promote the death of cancerous cells.
9) Kombucha May Improve Liver Health
Kombucha is also good for your liver health, as it can help detoxify your body. Consuming the beverage for too long can slow down your liver's ability to work efficiently.
A Pharmaceutical Biology study showed that rats who were given kombucha had lower levels in their livers of reactive substances such as thiobarbituric acid. This organic compound is used to measure cell and tissue damage. However, clinical research is needed to confirm if this compound is of any benefit.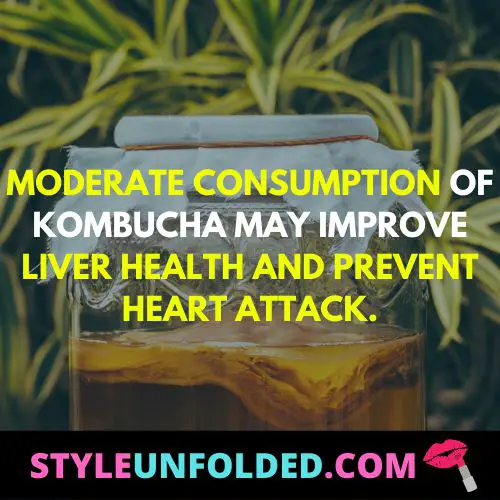 10) Lowers Heart Disease Risk
You can also make kombucha from green tea. This will protect your LDL cholesterol from oxidation, which can lead to heart disease. Drinking kombucha made with green tea has a 31% lower risk of developing heart disease.
Heart disease is the leading cause of death worldwide.
Kombucha has been shown to improve heart health in rats. It can lower bad LDL cholesterol by 30 days and increase good HDL cholesterol in just 30 days.
11) Body Detoxification
Certain toxins are absorbed into our bodies, and this could cause problems. However, kombucha's vitamin content can assist in improving the overall health and wellness of the liver and the body. The primary method of elimination of toxins is acidic glucuronic in the kombucha.
The glucuronic acid in Kombucha binds harmful chemicals, allowing the kidneys and the liver to eliminate them more quickly. Studies have proven that kombucha may lower the toxic effects on livers due to harmful chemicals by as much as 70%.
12) Kombucha May Improve Memory
Studies have shown that the connection between our brain and gut is robust. The brain gets benefits from the health of your gut, and this improves the circulation of blood. Kombucha is also a source of antioxidants, which improve brain function and cognitive health.
Kombucha is also a source of vitamin B9. This (also called Folic acid) has been proven to boost memory recall as well as combat neurological conditions like epileptic seizures and stroke.
5 Side Effects of Too Much Kombucha
Kombucha might have health benefits, due to the beneficial bacteria in it. Consuming too much or the wrong kind of kombucha may cause side effects.
Other factors such as contamination or excessive fermentation may also contribute to the potential side effects of Kombucha. There are some things you should look for when selecting a kombucha product.
Let's check some of the main side effects of kombucha.
1) It May Lead to Excess Calorie Consumption
A few sips of kombucha aren't going to harm your waistline. However, drinking kombucha every day can cause an increase in calories that can cause weight gain.
People who drink a lot of beverages that are high in calories have a higher chance of becoming obese or overweight as compared to those who don't.
The reason is that liquid calories are much more convenient to digest and are less filling than solid foods.
Additionally, beverages that are high in calories frequently replace healthy, filling snack options that will make you feel fuller longer.
2) Kombucha May Cause Bloating
Kombucha has been proven to improve digestion due to the probiotics in it. However, too much consumption could cause negative side effects.
Because it is carbonated, excess consumption could cause bloating.
Drinks that are consumed in carbonated form release CO2 (CO2) to the digestive tract, which can cause bloating and excessive gas.
In addition, kombucha has compounds known as FODMAPs particularly types of carbohydrates that can trigger digestion problems in many people, including those with IBS.
Additionally, drinking an excessive amount of kombucha can cause an increase in sugar consumption and result in water being taken into the intestines of your body and causing diarrhea.
3) Tooth Erosion
Consuming too much kombucha may not be healthy for your teeth.
According to research, the process of fermentation of the kombucha plant produces acids, such as Acetic acid. This acid is found in vinegar that creates the tart flavor.
Acetic acid released during fermentation reduces the pH of the beverage, which makes it acidic.
Research published in the Journal of Chemistry notes kombucha has a pH of less than 4.2. This is why drinking an excessive amount of kombucha could expose teeth to the risk of erosion.
4) Liver Toxicity
While it is not common, certain people might experience more severe reactions to kombucha.
According to research, there have been instances of toxicity in the liver and inflammation due to the consumption of kombucha. The effects could result in complications like anemia or acidosis.
People with health conditions that affect the liver may wish to avoid drinking kombucha or make sure that it is consumed in controlled conditions.
5) Kombucha May Lead to Excessive Calories
Many people drink kombucha as an alternative to carbonated, sweet drinks or soft drinks.
Although kombucha can provide health benefits, however, it is also a source of calories. The number of calories present in kombucha may differ widely depending on the manufacturer and other additives.
Some producers may add sugar or juices with sugar in their kombucha to enhance the flavor. This can also increase calories.
People that are on diets that restrict calories might want to stay clear of the calories that come from the kombucha.
Patients with diabetes also have to be aware of the calories, sugar, and carbohydrate content of kombucha.
How Much Kombucha Should You Drink Per Day
Although kombucha can be enjoyed by most people, it is best to limit its intake for several reasons.
Overindulging can lead to high levels of sugar and calories, which could be detrimental to your health.
You can reap the health benefits of Kombucha without consuming too many calories by limiting your intake to just one to two 8-ounce (240ml) servings per week.
Important to know that most kombucha bottles have two servings: 16 ounces and approximately 480ml.
Kombucha stored in dark glass containers is a good choice for high-quality, low-calorie, and low-sugar. This protects probiotics against light damage.
To keep your liquid calorie intake under control, choose a kombucha with less than 50 calories per serving.
When Is the Best Time to Drink Kombucha
On an empty stomach is the best time to consume kombucha for its health benefits. Because you haven't eaten anything, there is a greater chance that the probiotics will reach your large intentions. To make their gut magic! If you have a sensitive stomach, the best will be midday with a meal. It is a carbonated beverage that keeps you full, and it can be an important part of your weight loss journey.
Best Kombucha for Weight Loss
I've tried and tasted about 90% of the products available on the market but all I'm able to say is…there are plenty of great varieties available. So, I've listed my top seven Kombucha brands that can provide the necessary fermentation fix that you need.
I base this on factors like the ingredients, the taste, fermentation, and the bottling procedure.
1) Health-Ade Kombucha
This flavor of ginger and lemon strikes an equilibrium between tart and sweet and will surprise you with a slight taste of spice in each sip due to the cold-pressed juices. It's almost unbelievable that Health-Ade creates their kombucha with the greatest care, and brewing in small, 2 and a half-gallon glass jars. The result is a handmade high-quality, premium kombucha. It's easy to feel the difference.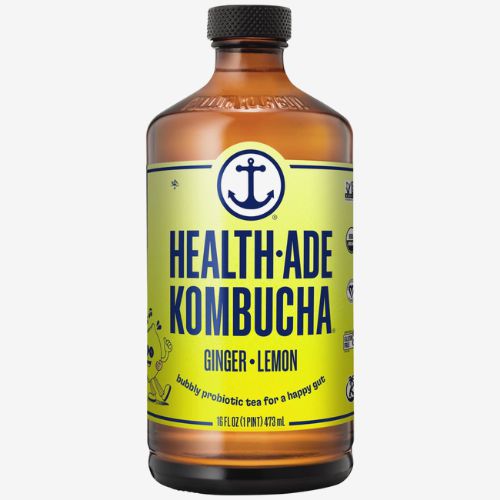 2) Humm Probiotic Kombucha
Get your body ready for that spin class after work by drinking a glass of Humm's hop grapefruit Kombucha. Grapefruit is a natural source of electrolytes, like potassium, and helps replenish stores of potassium to help keep you from feeling tired, dizzy nausea, and fatigue. Also, it is an alternative that is low in calories and low in carbs for a sour IPA beer.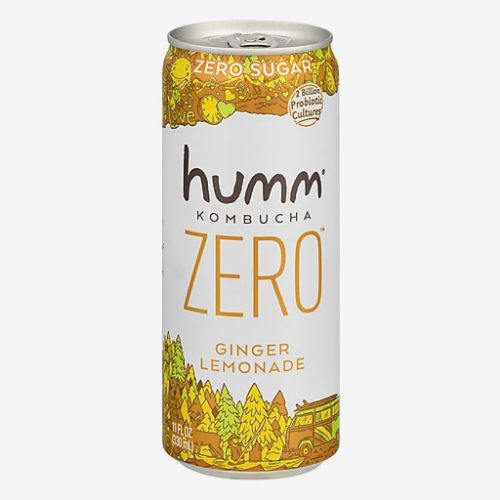 3) GT's Organic Raw Kombucha
GT's Lemonade Kombucha is made from black and green teas, kiwi juice, lemon juice as well as the equivalent of two billion CFUs probiotics that help heal the gut. For only six grams of sugar, you'll be glad to have found a sweet bottle. Before opening the bottle, GT suggests tilting it in a back-and-forth motion rather than shaking the bottle to distribute the sediment evenly.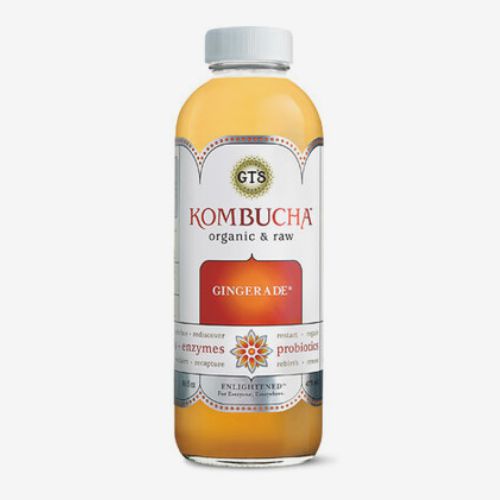 4) Remedy Kombucha
Remedy Kombucha is full of tea polyphenols that naturally occur. Which are nutrients high in antioxidants that help fight off illness.
These polyphenols, which originate from organic black and green teas that make up the base of our brew, also serve as a prebiotic, which helps improve the number of beneficial bacteria that reside in the gut.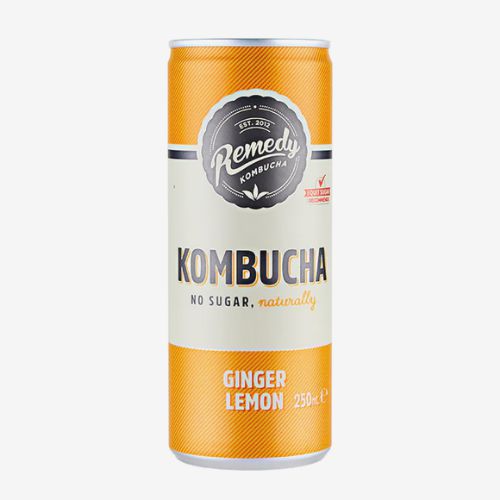 5) Better Booch Kombucha
Without added sugars, Better Booch is one of the most nutritious kombuchas you could purchase if you're looking to reduce your consumption of sugar. The L-theanine that is present in this blend of black tea will help you concentrate and keep you motivated without causing caffeine-induced anxiety like a cup of a coffee can.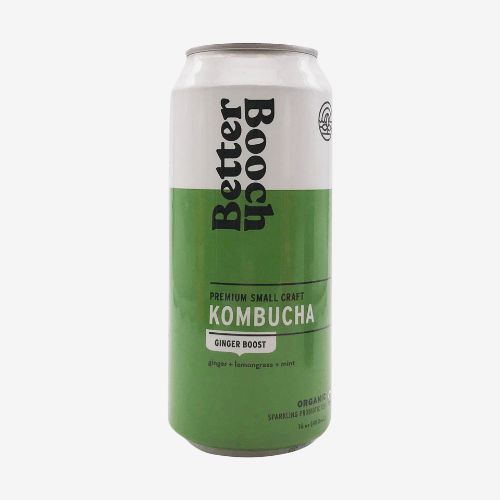 6) Revive Sparkling Kombucha
A can of Revive's probiotic-rich Kombucha has just 35 calories with 5 grams of sugar. The beverages are flavored with organic fruits and citrus juices and are non-GMO, and certified organic.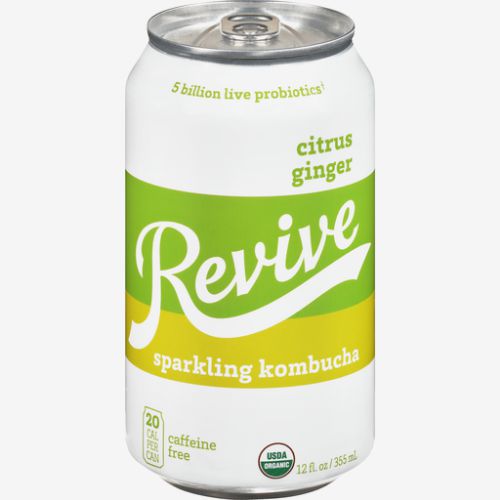 7) Soda Press Organic Kombucha
Soda Press Original Kombucha Concentrate is a classic sweet, sour, sharp flavor and a sour aroma. It is accompanied by peach and apple notes.
Simply add sparkling water from the SodaStream machine to create your premium Kombucha.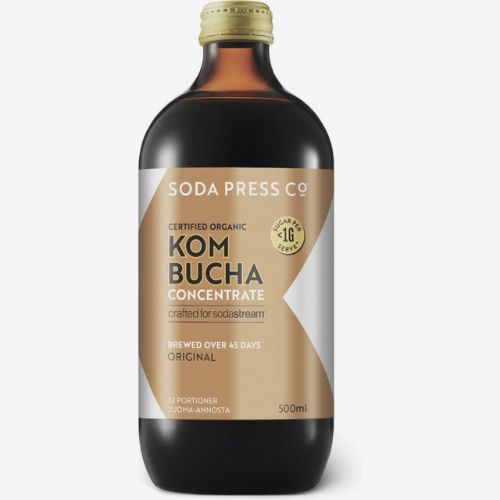 Conclusion
So, now you know the answer to your question: Is kombucha good for weight loss? Yeah, Kombucha is great for weight loss. It is rich in antioxidants, catechins, and flavonoids that can help you lose weight. Kombucha can also help prevent harmful diseases like diabetes-2, stroke, heart attack, and cancer. Kombucha can also help improve skin, nail, and hair health.
However, excessive consumption of kombucha can cause health problems. Kombucha has a low alcohol content. Consuming kombucha to lose weight is a good idea. Before adding kombucha to your weight loss diet, it is important to consult your doctor. Everyone who wishes to drink Kombucha for weight loss must be guided.