It's important to take good care of your spray tan for keeping your bronzed glow for the last longer. You should take before and aftercare of your fake tan to get the most out of it. Taking a shower after your spray tan at the right time will define the glow and longevity of your spray tan.
The major question here is, when can I shower after a spray tan? Experts say you should wait 4 – 8 hours after your spray tan before taking a shower.
In this article, we'll explain it in detail. So, read on to get beneficial information about taking a shower after a spray tan and more.
When Can I Shower After a Spray Tan
We recommend waiting for about 4-8 hours after you spray tan before going for a shower at first. however, don't wait more than 24 hours to take your first shower. If you shower the first time after applying a spray tan, you'll probably notice a gold-colored glow run down the drain but don't be concerned. You'll look bronzed after you leave. It's just one additional solution to clean your skin.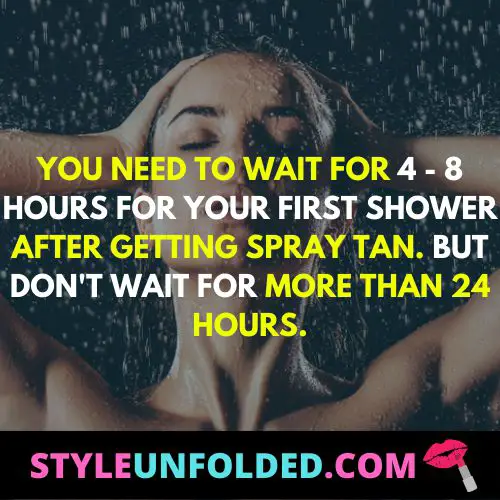 Avoid any moisturizing substances. This includes exercising and sweating, moisturizing your skin, applying liquid foundation, or any other thing that can cause your tan to get wet. The first few hours are vital as your tan develops in the meantime. Any excess water could hinder the solution from sticking to your skin.
How to Shower After a Spray Tan
There are a few tips to make your shower work for extending the span of your spray tan. Make sure to wait at least 4 – 8 hours before taking your first shower after a spray tan. Remember, don't use harsh soaps and body wash gels. Also, avoid hair washing products, shaving, and scrubbing. Use warm water for your shower.
Also, use paraben-free and alcohol-free products. Rubbing or scrubbing too hard can ruin your tan. So, always pat, never rub.
Must Read: Complete Guide to Make Your Spray Tan Last Longer
What Happens If I Shower Too Soon After a Spray Tan
If you wash off the spray tan too earlier, which is any time before at least 4 hours, could ruin the chance of getting darker color. Utilizing harsh and toxic products while washing the tan off will remove the tan from your body, leaving streaks and patches on the skin instead of an even shade.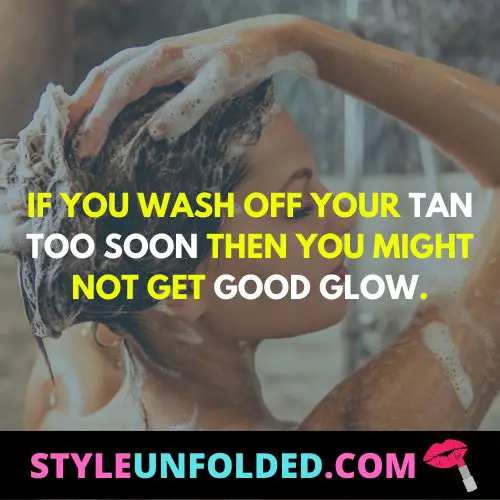 According to studies, DHA that is present in the spray tanning product reacts with amino acids in dead skin cells, resulting in dark skin tones. The chemical reaction takes about two hours to start. However, if you choose to wash off the tan within 2 hours after your tan session, then you may not see any color change.
So, it's important to wait at least 4 hours before washing off your spray tan to get a better glow.
Does Spray Tan Get Darker After Shower
If you're applying a spray tan, you may notice that the color may get darker, even after the spray tan is washed off in the shower. It's because tan will keep developing even after showering. Because DHA continues to develop on your skin and provides the appearance of a gorgeous bronzed look.
The color of the tan could be developed over 15 to 20 hours after a shower. Following the shower, you might think that your tan appears very dark, but this is because you scrub off any excess and give the appearance of a smoother finish.
Can I Use Body Wash After a Spray of Tan
It is not recommended to use body wash, harsh soaps, or other products you may utilize in the shower for the first shower following your spray tan. We would like to provide dihydroxyacetone (DHA), the active ingredient as long as it is possible to adhere to and get in the skin.
When you shower for the first time, you should wash with lukewarm water and rinse off the bronzer from spray tanning.
We also recommend using your hands to wash off your tan and do not use a washcloth since it functions as an exfoliator, and could cause your tan to fall off earlier.
Conclusion:
Getting a spray tan is the fastest way to look more beautiful. I hope you have got the answer to your questions, when can I shower after a spray tan? It will help you to extend the life of your bronzed glow. Aftercare of your spray tan plays a vital role in its longevity. Follow the instructions carefully to enjoy the most of your tan.